Cheat Codes & Hacks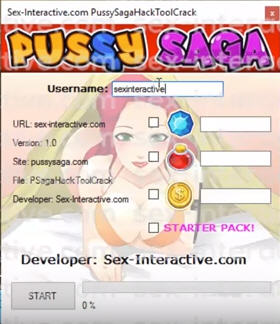 This insures that all of our pussy saga cheat codes & hacks listed on this page are valid and tested on: 2023-12-01
The best cheat codes and hacks for pussy saga. Most cheat codes can be entered through chat commands hen entering the first level. Check back for new cheat codes and hacks.
Secret Orgy Level New*
Type '/hrpussysagaxxx'
Unlimited Crystals
Type '/freecrystals (on or off)'
Unlimited Gold
Type '/freegold (on or off)'
Increase game speed
Type '/gamespeed (on or off)'
Make any model nude
Type '/nsfwmodel [name]'
Skip to any level
Type '/joinlevel (1-8)'
Crystal & Gold Farming Tips
Upgrading is the best way to farm for crystals and gold in pussy saga. Before each level make sure that your hentai characters are at the highest possible level before continuing to the next stage. This will help make your characters stronger and maximize the amount of crystals you get per level.
Another great tip is to make sure your character has full health before each boss fight. The more damage you deal to the boss the more gold you get for completing the level.